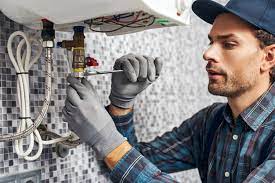 If you're on the hunt for local plumbers in your area, then you're probably wondering how exactly you're going to be able to differentiate so many different plumbing companies from one another. The odds are that your local area is completely oversaturated with plumbers, and they all may seem the exact same.
We've partnered up with the Northern Utah plumbing specialists at Beehive Plumbing to provide this list of five common questions the home and business owners should ask plumbers prior to hiring them. When you go through these questions and ask them to several different plumbing companies, you'll put yourself in a better position to find the plumbing partnership your property needs! 
So here are some of the questions to ask local plumbers in your area: 
What's the estimate for my plumbing problem? 
You should always be a bit skeptical when it comes to phone estimates that you may receive from a plumbing company, because these estimates will often change once they arrive and actually see your problem firsthand. 
Most high-quality plumbing teams will want to check things out in-person before providing any estimates, because this will help them to be more accurate. It's also important to know that your estimates will include costs and labor fees, which of course mean you're getting a full and accurate estimate. 
Who exactly will be doing the plumbing work at my home? 
There are plenty of good plumbing companies out there, but they'll end up providing you with subcontractors that aren't quite as good. If you are going to be working with a subcontractor, make sure that you're getting their experience and credential information beforehand. 
You're never going to want to risk putting your plumbing system in inexperienced hands. 
Are your local plumbers fully licensed?
Just about every state requires specific licensing from professional plumbers, so you'll need to double-check that your plumbing team has fulfilled all of their testing requirements. This means asking for license evidence or proof. 
It's also really important that you don't put your trust in newly licensed plumbers that don't have the same type of experience that you're looking for. 
Are your plumbers insured and bonded? 
Yes should be a good enough answer, but the truth is that you should never work with plumbers that aren't fully bonded and insured. This is basically for legal requirements and liability issues on your behalf, because you won't want to even risk the chances of a plumber suing you for injuries they sustained while working on your property. 
Are your plumbing rates fixed or hourly? 
It's important to get this type of clarification from a prospective plumbing company, because it'll help you better hone in on your overall project estimate. If they charge by the hour, then you should ask how long it'd take to fix the problem. 
It's always important to avoid any hidden charges or unexpected fees when you hire a plumber, and getting this vital type of transparency can go a really long way in ensuring the overall likelihood that you'll work with a plumber in the future. 
Contact The Local Plumbers at Beehive Plumbing To Learn More! 
There's a lot that home and business owners need to consider when they're hiring a local plumbing team, and the above questions are a good starting point when you're just beginning to call plumbing companies and get basic information. 
You can learn more plumber hiring tips by speaking directly with the Beehive Plumbing experts via the link at the top of this page!