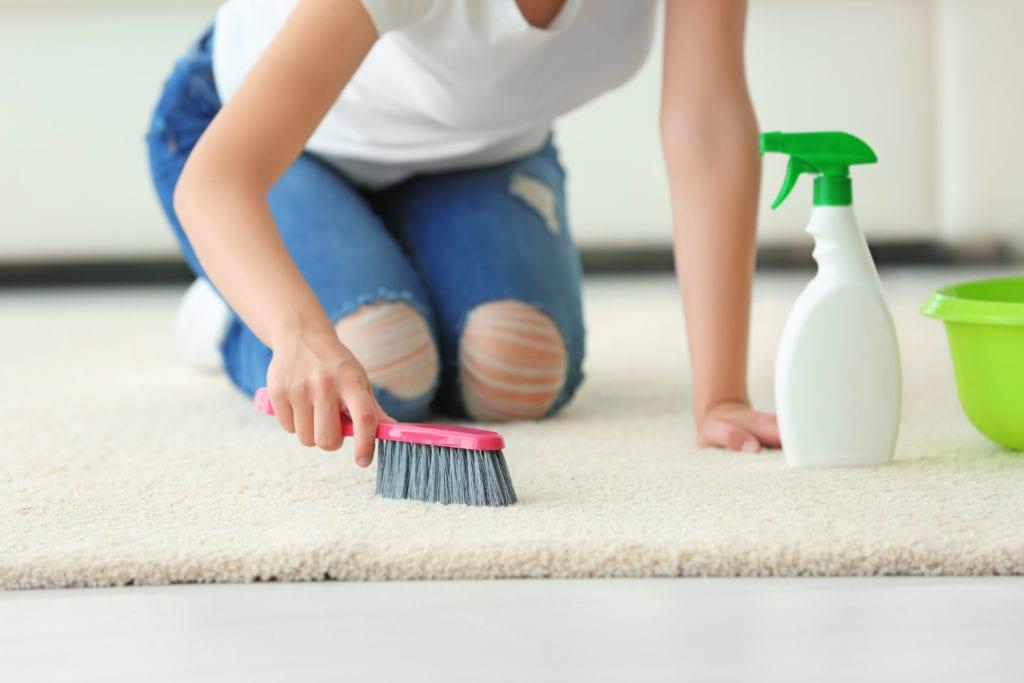 Area rugs are always a wonderful way for any homeowner to brighten up a residential space of any kind, but they of course get dirty due to regular wear and tear. Homes with kids and pets know this all too well, which is why it's so important to know certain rug cleaning tips to keep your home's flooring looking good for years to come.
The rug industry specialists at Rug Source have provided us with this comprehensive list of 5 DIY rug cleaning tips that can actually go a long way towards alleviating those pesky stains and dirt accumulations. Although hiring an experienced expert is always your best bet, the following DIY tricks can help you out when you're in a bind!
Shaving Cream
This one comes as a surprise to a lot of people, but it's true that shaving cream can be a DIY rug cleaning product when you're out of more conventional options. What you'll end up doing is spraying the shaving cream on top of your rug stain and just let it sit for about 30-60 minutes.
After the shaving cream has set into the rug's fibers, you'll then take a dry cloth and carefully blot the stain away. You'll then need to create a simple mixture of vinegar and warm water in a spray bottle and thoroughly spray the stain until you're able to fully wipe it away.
It seems simple, but it does actually work!
Rug Shampoo
Rug shampoo is another great product for rug cleaning when you're in a bind, and you can get this shampoo at just about any hardware or home improvement store. The main thing you'll need to keep in mind when it comes to using rug shampoo is that each product is unique, so you'll have to correctly follow the directions on the bottle.
However, it's also possible to create a DIY rug shampoo if you'd like to! This would essentially entail liquid dish soap and warm water mixed together.
Mild Soap
Mild soap products are one of the best ways to remove really pesky marks and stains like candy and food stains, and you'll need to be intricate when addressing this type of rug cleaning task.
The first thing you'll need to do is utilize a spotter brush or butter knife and scrape off the stain from the rug's fibers as much as you can. After this, you'll then use a mixture of warm water and mild soap and use a sponge to apply it directly to the stain.
If this method doesn't work for you, then you may need to hire professional rug cleaning services.
Regularly Cleaning
Preventative upkeep and maintenance is the best way to ensure the overall longevity of your home's rugs, which is why it's so important to regularly clean your rugs on your own. Steam cleaning is typically your best option and should be done at least once a year, but you can also hire professional rug cleaning teams to come to your home and conduct their own methods on a yearly or bi-yearly basis.
You'll undoubtedly maintain beautiful results when you invest in your rug cleaning, but you can also rent steam cleaners and do this process all on your own as well!
Vacuuming
Vacuums just so happen to be a quick and easy rug cleaning method, and it's important for homeowners to understand just how crucial it is to vacuum on a weekly basis. Many people will hire housekeeping services that come on a bi-weekly basis, but even if this is the case for you, you're still going to need to vacuum each week.
This is especially the case if you have pets in your house, because your pet's hair will continuously get all over your area rugs.
Contact The Specialists at Rug Source To Learn More DIY Rug Cleaning Tips!
There's so much that rug owners need to keep in mind when it comes to cleaning and general upkeep, but the gist is that you'll need to be persistent and creative when things go wrong and you get a stain.
You can learn more DIY rug cleaning tips by speaking directly with the Rug Source team via the link to their website at the top of the article!