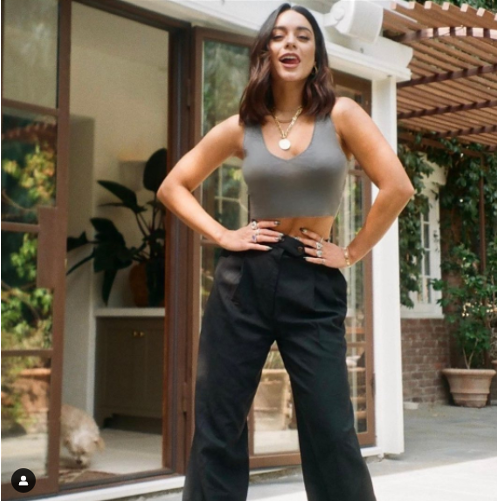 Hollywood is often considered the land of glitz and glamour. But one place that bucks the trend is Vanessa Hudgens' Los Feliz home.
Vanessa Hudgens has consecutively been a part of Vogue's list for the last two years, labeled as a style icon and crush of many Americans.
She has her unique style — it's free-spirited yet still chic.
People, including us, always find ourselves looking for wardrobe inspiration from her online and on social media pages.
Recently, the Disney actress revealed a few photos of her Los Feliz home, which are giving us major interior design inspo that are fun to imbibe.
The home is about 3,000 square feet and features three bedrooms, three bathrooms, and an open floor plan that includes a kitchen with granite counters, large glass-paned steel doors and windows, and a breakfast nook.
Vanessa Hudgens' Los Feliz home is one of the most Instagrammed homes in all of Hollywood, for all good reasons. The actress's cozy abode is full of touches that make it feel surreal, from the cute décor and grand glass-paned steel doors to the lush backyard.
Take a look at her relaxed, casual, and eclectic Georgian colonial-inspired house, and you'll find several solid pieces you can pull from Hudgens' Los Feliz home that bolster plenty of room inspiration.
1.    Nature-Inspired Dining Area Décor
The dining area of Vanessa's home has a traditional old-world feel, with hardwood chairs and a table. What piques our interest, though, is the fresh bouquet for a dash of je ne sais quoi, as well as the delightfully cool white steel doors and windows that highlight the unique features of the room.
Vanessa Hudgens' living room is filled with different textures — from the boho look to wooden table and chairs—but they all work together seamlessly to create a cohesive look that feels relaxed and cozy at the same time.
If you, too, are looking to position your room in a way that emulates the atmosphere and environment of a secluded cabin in the woods, then this decor is for you. One of the best ways to accomplish this look is by placing furniture pieces made of natural wood and adding a large black steel door with transoms and sidelights that allow light to illuminate your room and bring in the fresh summer breeze.
2.    Modern Rustic Living Room
The artist's living room has iron steel doors and traditional furniture. Vanessa's style is classic, with a hint of glitz. She enjoys combining patterns, textures, and colors to create a one-of-a-kind design for her house.
A glass chandelier sits above the table, bringing a touch of bling to this living space! The vibrantly patterned carpeting and the polished steel door, however, complete the aesthetic of her room.
White furniture is everywhere in Hudgens' home. From the large sectional sofa to the bar countertops, this color scheme is repeated throughout the space in different furniture pieces. It makes for such an elegant look and works well with other colors like black steel doors or even red—as evidenced by the rug on the floor.
3.    Tranquil Relaxation Space
Anyone who understands architectural spaces knows that sage green is one of the most elegant and chic colors.
Vanessa's home features a classic mix of sage green armchairs customized by prominent interior designer Ashley Tisdale that emanates feminine mystique and sophistication, as well as an antique pink mohair sofa that the artist fell in love with at first sight. Her room look is completed by white factory-style steel doors right behind her piano.
4.    Subtle Blend Of Vintage and Modern Backyard
Vanessa Hudgens' Los Feliz home is a modernist beauty with a splash of glamour. The actress has decorated her home with a mix of midcentury finds and contemporary pieces.
The same is the case with her backyard. Vanessa's home has a large backyard with mature trees and landscaping. The house sits on a large lot with plenty of space for entertaining guests—or just relaxing by yourself in jute chairs along with a simple wooden table.
The backyard also features an outdoor fireplace and a ton of greenery, perfect for summer entertaining! The massive entryway French iron door is decorated with accent lighting and planters. The space sets the tone for the rest of the house—it looks so welcoming!
If you, too, are interested in sprucing your home décor inspired by trendy old-school charm, reach out to Pinky's Iron Door.
The premier US-based manufacturer of French iron doors,modern-looking steel doors, and steel windows offer an extensive range of the latest exterior and interior door designs. These include sliding doors, decorative iron doors, pivot doors, accordion doors, and more.
Revamp your interior home space with modern iron and steel doors by getting in touch with them.
About The Author
Allison J. Meier is a writer, editor, and journalist based in New York City. She has written for the New York Times, NPR, The Daily Beast, and other publications. She has a background in interior design and has worked for many years as a freelance designer for residential clients.