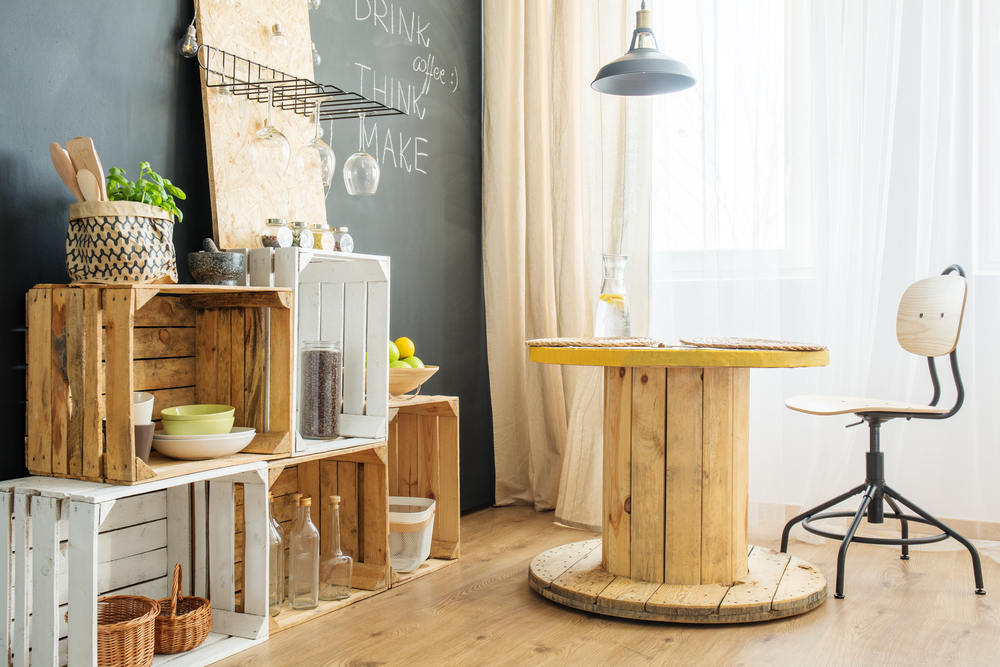 Right now, upcycling is on the rise. We're all trying to do our bit for the environment and that definitely extends to around the home too. Many of us have had years of wanting shiny new things when something has worn a little. Now, it's time to shift that mindset and focus on repurposing and restoring what we already have. This is why upcycling furniture has become so popular.
During lockdown with many idle minds resting, they turned to DIY around the home and started on those projects that they've been putting off for so long. However, lots of us lack the required skills to upcycle, despite how hard we try. This is why there's been an increase in buying upcycled furniture too, having left it to the experts.
In this article, we'll look into the benefits of both purchasing upcycled furniture versus doing it yourself at home. Then you can decide if you have the know-how yourself or if it's best left to businesses who definitely do!
Buying upcycled furniture
Whilst lots of us like to try our hand at DIY, it's not a job for everyone. If you're looking for a long-lasting, unique, quality item, buying upcycled furniture might be the route for you. Here are a few reasons why you should leave it to the experts.
You get a top quality piece
We will only ever use quality wood because it's made to last. Mahogany, oak and walnut feature heavily in our collections because they are longer lifespans than other types of wood. There's no point in upcycling cheaply made products, only to find they don't last five minutes afterwards.
It will be one of a kind
If you're looking for a focal point for your home, an upcycled piece will be exactly that. Every item will be completely different so you never have to worry about anyone else having the same design as you!
You need zero DIY skills
If it's not your forte, leave it to the experts! Our team have been upcycling for over ten years so we know exactly what to look for. We do everything on your behalf from sourcing out materials to design so you can sit back and enjoy the end result!
You're supporting a small business
We're passionate about what we do and that means we have loyal customers. Because we provide a friendly and knowledgeable service, many of you keep coming back. We love it when you refer your friends and family to us too because it shows how much you love our products.
DIY upcycling
If you're keen to try it for yourself, there are so many reasons to give it a go. Acquiring a new skill is definitely a highlight to upcycling along with many reasons listed below.
It's budget-friendly
You can spend as much or as little as you want to when upcycling yourself. Finding hidden gems on local Facebook pages and online bidding sites means you don't have to spend a lot to make it work. Some items might only need sanding, varnishing or painting, which is a very cheap and quick fix!
You could make it into a business
If you discover you have the skills, you can set up your very own upcycling business. Once you have the tools, you can find out which types of items are your favourites to work on and start there.
You can personalise it as much as you want
If you're not looking to sell, you can make the piece into what you need, rather than what someone else needs. You can paint it in a bright colour, add funky handles and go crazy with decorations if it complements your space!
It gives you a new hobby
Lots of us run out of time for hobbies as adults but if lockdown has taught us anything, it's to find something fun to do as much as we can. Upcycling can be a hobby for those who enjoy watching the transformation and improving their DIY skillset!
Benefits to both sides
Whether you buy upcycled furniture or do it yourself, there are advantages to both. In fact, there are a couple of reasons that cover upcycling as a whole! The environment is a key part in why we upcycle furniture because we prefer to repurpose what's already out there than make brand new.
You're helping to save the environment
Sustainability is a hot topic right now as more of us look to do our bit to help save the environment. With upcycling, you're saving an item from going to waste. Whether it's repurposing it to a brand new item or cleaning it up, it's much more environmentally friendly than sending it to landfill.
You're giving new life to something
Older furniture can look dated, which is why upcycling looks so well. You can keep it classic and just spruce it up a little or you can completely transform the piece and change its appearance completely. This will give a new lease of life to the piece and the room it's in!
It's long-lasting
By investing in quality wood, you're expanding the lifespan of the piece and not letting it waste away. There's so much you can do to look after your furniture so we don't let these older pieces go to waste!
If you're thinking about trying upcycling yourself, start off small and cheap to get a feel for it before moving onto bigger pieces of furniture. Alternatively, if you know it's not for you, consider purchasing premade upcycled furniture to have a unique-to-you piece created and be the focal point of your home. Trust us, you'll get lots of compliments on your new/old piece! To see for yourself, check out our upcycled section for furniture ideas around the home, from kitchen and coffee tables to bookshelves and sideboards. There really is an item for any room! Contact us today to make your shabby chic dreams come true!