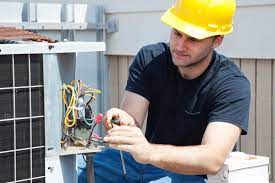 If your home's HVAC system is over 10-15 year old, then it might be time to think about a new one. There have been a ton of advancements in the HVAC industry in recent years, and investing in a new residential system can do wonders for you and your home.
We've partnered up with the HVAC experts at Beehive Heating and Cooling to develop this list of things that you should look for while you're hiring an HVAC company in your local area. It's likely the case that you'll have plenty of options to choose from when you're conducting this type of market research, so knowing how to differentiate HVAC companies can go a long way.
Here are some of the things to be on the lookout for while you're hiring an HVAC business:
Experience & Licensing
Your HVAC system is more than likely the most expensive household appliance on your property, so it's absolutely crucial to ensure that your technicians are experienced and legally allowed to conduct the type of work you're hiring them for.
Most HVAC contractors must go through at least five years of field experience before being able to get a license, and you should also be certain that the company has proper insurance and bonding as well.
A company's longevity is also a solid indication in terms of their stability as a business and the quality of work they've provided customers in the past. There are many different certifications in this industry, so don't be ashamed to ask a contractor what certifications they've received. You should also make sure that the company's technicians are properly trained with the specific brands you're interested in.
Thorough Household Evaluations
It's typically necessary for HVAC contractors to conduct home evaluations prior to an installation job, and this is because they'll need to evaluate your unique needs based upon the square footage of your property. They'll also need to keep insulation and windows in mind while they're deciding which system is right for you.
Your HVAC contractors should also thoroughly inspect your home's ductwork, and the calculations they come up with should be fed into software systems that provide comprehensive data evaluations.
Once this type of evaluation has been completed, you should receive an written estimate that details everything that you'll end up paying for. This should include equipment and labor costs, warranties, and energy efficiency data.
Referrals & References From Past Customers
You can always scour the Internet and read through commercial website after commercial website to get a better idea as to which local HVAC company seems like the right fit for you, but it's important to remember that this type of online information will always be subjective and biased to a certain degree.
The most objective way to understand the quality of an HVAC company's work is to read online reviews and get in-person referrals from people you know and trust. If you know one of your friends or neighbors has recently received a new HVAC system, ask them about the company they worked with to see what their experience was like.
You can't always trust online reviews these days because many companies will do their own reviews to make themselves seem great when actually aren't, so be sure to trust real people that you know when you're making this type of important investment decision.
Special Offers & Rebates On Your New HVAC System
We all know just how expensive new HVAC systems can be, which is why you should always be on the lookout for special sales and rebate offers that are available to you.
You'll never know what type of deals you could get without asking!
Energy-Efficiency
Energy-efficiency is a huge selling point in today's HVAC industry, and this is largely because most households are doing their due diligence in terms of reducing their carbon footprint in as many ways as possible.
Be sure to know what the Energy Star rating is for the models you're interested in, because this is the reliable rating system to understand overall efficiency.
Reach Out To The Beehive Heating and Cooling Team To Learn More Tips About Finding An HVAC Company In Your Area!
There's a lot that people need to consider while they're honing in on their top options of local HVAC companies, but the above list will point you in the right direction and provide you with the insights you need to make a smart hiring decision.
You can learn more HVAC hiring tips by going through the hyperlink at the top of the page to the Beehive Heating and Cooling website and speaking with their experienced specialists!