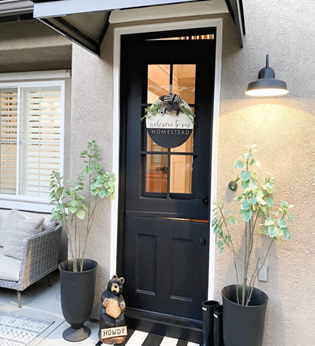 Front doors are the first look your guests or potential buyers will get of your home. They're the key to a beautiful visage and give off a 'come hither' look to the onlooker—like the home in Hansel and Gretel but with fewer candies, more steel, iron, and glass, and definitely fewer murderous innuendos.
Wrought iron doors and steel doors have the uncanny ability to elevate exteriors and draw attention away from the less-than-flattering aspects of your home or commercial establishment.
Here's how you can use these scene-stealers to enhance your home or store frontage in Texas.
A Seasonal Makeover
Word on the street is, winter isn't going anywhere anytime soon. With greys and whites for miles on end, your home can look like a brown or grey blip in the bleak landscape. Why not make it stand out with a splash of seasonal color?
What comes to your mind when you think of winter? For most of us, it's either snow or Christmas trees. This holiday season, decorate your steel front door with the latter for little seasonal cheer. You can either install a wreath right at the door or flank both sides of your iron doors with Christmas trees.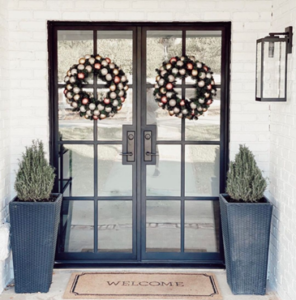 A Warm Welcome
Take 'a warm welcome' to task by flanking your iron or steel doors with porch lights. This will make sure your door is a sight for sore eyes for guests or customers and add more character to your contemporary entry, especially if it's made of black steel doors.
You can also install an overhead light or light your front door from within by installing warm light inside the house and letting it spill outside through a transom. Warm and cozy is the name of the game, and you'll be taking it for what's it's worth, and then some.
A Minimalistic Exterior
Modern iron doors are all about geometry and open planning. They're clean and straightforward in design, but their beauty might be overshadowed by cluttered environs. Make sure the space around your fancy new front door is clean enough to do your and everybody else's mama proud.
Start by cleaning up the surroundings. Clear out anything that might be in the way of your entry, even if it's a letterbox. Trash cans might be a permanent fixture outside your house, but you can always hide these less-than-savory aspects of your frontage within a fenced-off area or small storage shed. While you're at it, paint it the same color as your front door.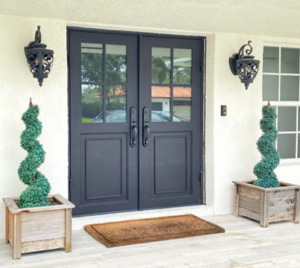 A Change of Color
You don't always have to match your iron door with the rest of your façade. It doesn't have to go with your doors and windows. Some just go with it because it's safer that way. But, you see, this year's not about playing safe. It's about taking stock of what you want in a front door.
So, what if it's heavy bronze or brushed silver? Life's too short to care about conventionalities. Go with your heart, and contrast or match the rest as you go. Coordinate your house with your iron or steel door, not the other way around. For instance, if you're going for something on the grey or charcoal end door-wise, choose a robin's egg blue or cream for the rest.
A Window to an Interior
Eyes are to souls what windows are to home interiors in Texas. Add two of them on both sides of your front door, but don't let me stop you there. Bare windows with a bare front door can only hold one's attention for so long.
Add a whole lot of green to your barren façade by installing potted and hanging plants around the door and front steps. Install a window sill for the sole purpose of lining it with small planters, and your exterior will end up looking edgy and soothing at the same time.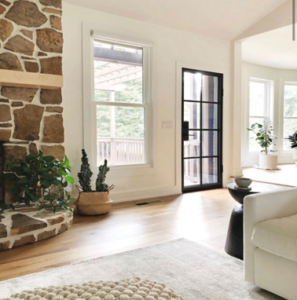 Go the Extra Mile by Selecting High-Quality Entry Doors in Texas
There's no shortage of iron door manufacturers in the US, but my experience tells me you're better off with experienced manufacturers like Pinky's Iron Doors. Far from a safe choice, these door designers and makers are where they are because they've evolved with changing times.
At their showroom, you'll find all kinds of wrought iron doors, cold weather doors, black steel doors, transoms, sidelights, and windows that you were looking for and even some that you weren't looking for, like pivot doors.
Reach out to kickstart your iron door process in Texas.
About the Author
Annika is a homemaker and interior designer from Dallas. She's been renovating home interiors and exteriors for almost 30 years and recommending Pinky's Iron Doors to her customers for 15 of those years. Over the past two years, she's been spending more time blogging about their steel and iron doors and less time on home projects.