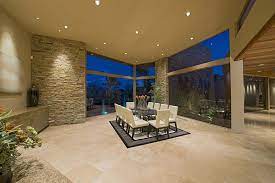 Natural stone is used in many industries, especially in making furniture and house furnishing. It is highly durable, aesthetically appealing, and long-lasting. When the time comes that you need to repair any cracks or any issues with the stone, all you need to do is to do some stone refinishing work and touches, and your stone will be back in its best shape. In this article, we will discuss some of the common types of stone damage and what you can do about them. It would help to know these things so that you'll know what to do before calling a professional stone
Damage that natural stones can suffer as time passes by
·         Stains –
Although you are doing regular stone cleaning such as wiping on a day-to-day basis, some materials cannot be completely removed by just wiping, such as rust, oil, and even water. Some foods and cleaning acids can also damage the stone. For rust stains, the common causes are cans, bolts, nails, and metal furniture.
·         Damages caused by extreme temperature –
One of the things that can cause cracks on the stone is extreme temperature. If the stone is always exposed to extreme temperatures, it can chip and crack. For instance, melting snow that gets trapped in the joints and cracks and freezes again will eventually affect the stone's integrity. Although it is highly dependent on the porosity of the stone and water level absorption.
·         Scratch Marks –
The stones are prone to scratches, especially when installed in an area with heavy foot traffic. The dirt and sand stuck to the footwear can rub against the stone.
·         Hit Marks/Stun marks –
A sudden sharp impact on the stone can cause white discoloration, causing weak links, which will eventually rupture through the stone. The stun marks can be just on the surface or can get through the entire slab. It all depends on the severity of the impact.
·         Etching –
What causes an etch in the stone? An etching takes place when acidic chemicals eat away and destroy the surface of the stone. In mild cases, the etch will appear to be a clear liquid stain. The big problem is when the stone is exposed to chemicals for a longer period of time. A thorough stone-polishing is needed to address this problem.
·         Cracks –
This type of stone problem can be addressed if the installation process is handled properly along with good design planning. Other than problems with installation and design, cracks can also be caused by extreme weather fluctuations, poor jointing, substandard paving base, and roots of the trees that continue to grow underneath the stone's surface.
Although natural stone is a highly durable material, it is not spared from damage such as the ones mentioned above. It's fortunate that there are many types of stonework, polishing, and refinishing touches that aim to restore the luster, beauty, and quality of the stone. You can do the restoration on your own or hire the services of professionals.