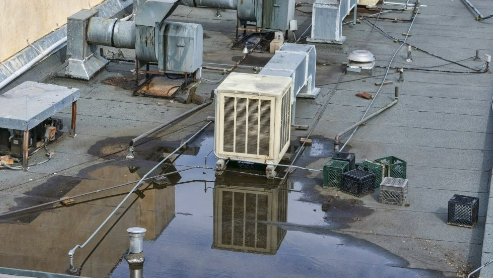 Most commercial roofs can last between 15 and 20 years. Nevertheless, your commercial roof can also leak for various reasons.
Why Is My Commercial Roof Leaking?
Commercial roof leaks are often caused by improper roof installation. Incorrect installation of roof structures, such as roof membranes, roof flashings, roof vents, or chimneys, is one cause. Hail, falling trees, or other objects may also cause roof damage and water leakage.
Signs of Commercial Roof Leakage
Here are some of the most common symptoms of a roof leak in a commercial building:
– Stained walls or ceilings
– Visible damage to roof flashings
– Mold and odor problems in your facility
– Water dripping and puddles inside your building
– Higher energy bills
Common Causes of Commercial Roof Leaks
Commercial roof leaks can be caused by a number of factors, including poor drainage, lack of drainage, open roof penetrations, damaged roof flashings, improper sealing, damaged roof membranes, or an old roof.
What to Do If Your Commercial Roof Is Leaking
If you notice that your roof is leaking, the first thing to remember is not to panic.

Clear the area of people, equipment, and supplies to reduce damage. Use a bucket so that the water doesn't collect on your floor.

Avoid water damage by covering heavy objects with plastic.

Mark the exact location of the leak. This is best done while the roof is still wet. It will be more difficult to mark this area once it dries.

Contact a professional roofer to inspect the damage. Get your roof repaired as quickly as possible.
Commercial Flat Roof Replacement: An Alternative to Repair
It is best to repair a roof that is badly leaking rather than replacing the whole roof. For example, you can coat the roof with silicone to make it waterproof. This will come with a guarantee if installed by our roofing professionals.
This post was written by Ted Williams! Ted is the owner of A Old Time Roofing which offers Commercial Roofing Contractors In Clearwater FL! Ted is a Master Elite Weather Stopper GAF Roofing Contractor, a double award winner of Best Steep-Slope Contractor from GAF and achiever of Master Elite Consumer Protection Excellence from GAF. He has been serving the Pinellas County area since 1978. Old Time Roofing has a tradition of quality workmanship, servicing residential and commercial properties.