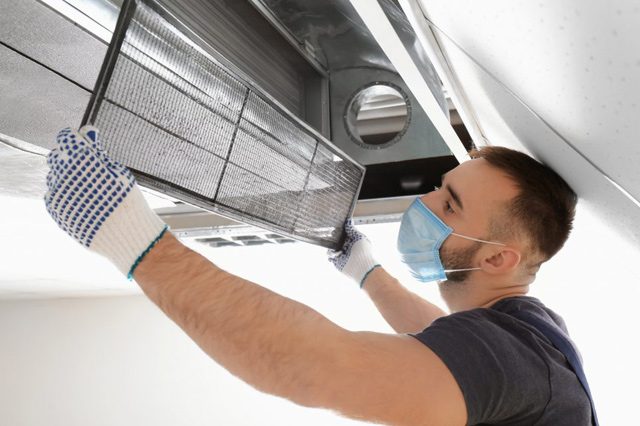 Commercial buildings spend a great deal of money on the maintenance of their HVAC systems so that the air inside the buildings remains fresh and of high quality. Commercial buildings like hotels, plazas, malls, and restaurants regularly hire professionals like the Nettoyeurs Provincial Conduits d'Air. 
Usually, people can clean their residential HVAC themselves to a certain extent, but commercial ducts are too hard to clean without the help of proper professionals. 
Cleaning Methods
Since commercial buildings are very complicated and have complex duct systems, they require rigorous cleaning methods. The most commonly used duct cleaning methods in commercial buildings are:
Cleaning with Industrial Vacuum Cleaners
Industrial vacuum cleaners have a very high capability of filtering out air. They work incredibly well for sucking everything out from the depths of commercial buildings. Usually, these industrial vacuum cleaners come with HEPA filters, which is why they are so effective. 
They also come with extended pipes so that they can reach the inside of ducts properly and remove all the dust and debris. 
Cleaning with Compressed Air
This method involves cleaning with the help of mechanical rotary brushing and compressed air. Compressed air is highly pressurized and can remove the dust and debris from the inside of the ducts very easily. 
Usually, this method is coupled with vacuuming so that the debris that loosened with the help of compressed air can be transferred from the inside of the ducts to the outside. 
Cleaning with Pressurized Water
Pressurized water is also very good at removing highly stubborn debris from the inside of ducts. The problem with this method is that it cannot be used when the commercial buildings are in use. 
So, usually, those who prefer this method carry out their cleanings during off-seasons. Another risk is that the water can get into electrical systems. 
Hence, this method has to be used very carefully. This method is good because it can be coupled with traditional cleaning. You can add detergents and other cleaning material in the duct that will kill the bacteria and loosen other components. The pressurized water then removes the contaminants from the inside. 
Conclusion
When it comes to air quality, commercial buildings need more maintenance because they are more crowded, congested, and have hundreds of rooms and dozens of stories. 
All sorts of people enter and leave those buildings. Since people come closely in contact with each other inside commercial buildings, risks of disease transfer from people to people are high. 
That's why highly effective cleaning duct cleaning methods have to be used for commercial buildings.