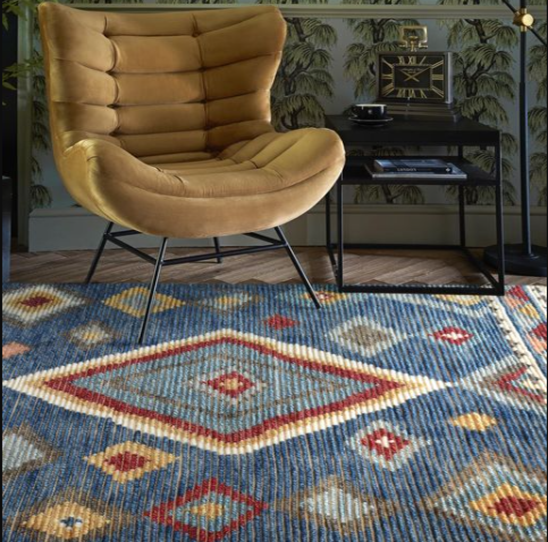 Our house is the place that we come to at the end of the day and look for solace and warmth. The interior of the house can actually help volumes to create the much-desired vibe and overall feel that helps the inhabitants make a home out of a house.
One of the most used areas our home is the living room. It is usually seen in the central area of the house that is quite close to the entrance. The living area thus turns out to be the room that serves as a preview of what one can expect ahead from the overall interiors. Having a few upgrades to your living area can help your interiors stay on point with time and trends.
Machine Made Rugs in The Latest Designs
Machine-made rugs are economical, and there is an abundant variety in terms of colours and designs that are available for this category of rugs today. The living area, being a high foot traffic area of the house, should have rugs that are relatively reasonably priced, like the machine-made rugs. To make sure that you pick the best rugs for your living room, opt for the pantone colours of the year and go for designs that are in line with the popular interior styles that are being adopted widely.
Trends keep changing, and so it's easier to incorporate these by changing the smaller and not so exorbitant accessories in the house. If distressed and raw looks in interiors are popular, you can include a rugged look into your rug designs. Whereas, if you want to be a follower of the sustainability trend, you can pick a rug that has been made using reused or recycled materials.
Living Room Seating Ideas
The living room is a semi formal area in the house, so it's good to make use of some cool and unconventional seating ideas here. Make use of poufs or ottomans along with your sofa or couch to have a cool and trendy look. A large round pouf or a storage pouf is a really great, functional and comfortable option for the living room. Having a nice oversized couch with new designs and interesting curves can look ultra trendy way to upgrade the interior styling of the house.
Designers today show us how smart accessories like poufs and stools can be used to make a strong style statement. To create a comfortable yet fashionable seat for the living room, use eye-catching upholstery and a relatively large size in poufs. You can opt for a yellow or grey colour in the upholstery for your pouf to effortlessly bring these top colours of 2021 into your sitting space.
Benches For the Living Room
Another awesome upgrade to your living cum dining area is by adding benches. Benches are so in trend this year and have become a hot selling furniture piece. The styling of benches for living room can be done in two popular ways. First, you add a bench to act as a stylish divider between the dining and seating area in the living space. Second, you could use benches instead of chairs for the dining. Having bench style seating alone or making use of a bench on one side and chairs on the other are two brand new ways in which dining areas are being styled today.
Style and budget can go hand in hand with ease by opting for these trendy decor ideas. So don't stay behind and make your house look fashionable in no time.