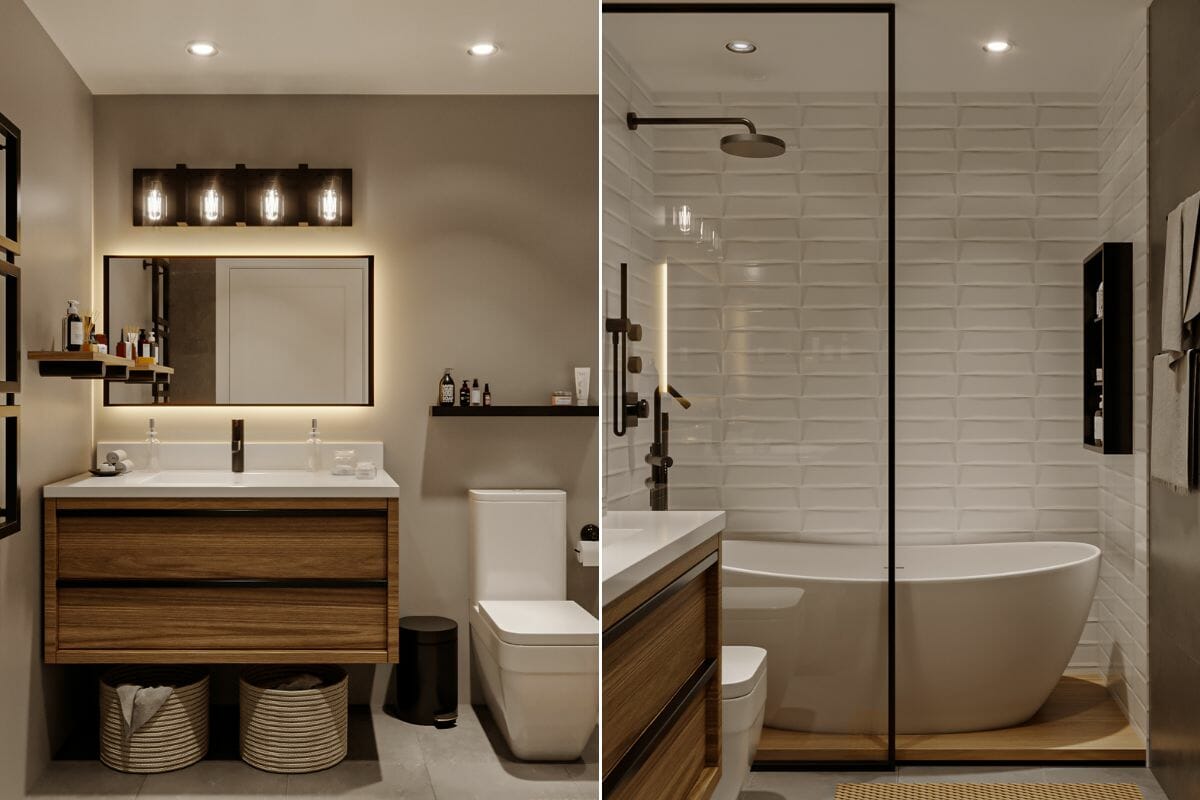 With 2023 just a couple of calendar flips away, we have taken a look at the latest and most stylish bathroom trends for the upcoming year. Whether you're planning a small bathroom refresh or designing a whole renovation, these ideas would invigorate your bathroom space, no matter how large or small it may be.
Warming Metallic Accents
The spotlight among the 2023 bathroom trends is the focus on hardware and fixtures, with a specific focus on warming metallics, like Brass and Gold to add a warming contrast to dark bathrooms specifically. If you want to catch on to this upcoming trend, British home fashion label, Buster & Punch have introduced a new range of bathroom hardware using solid metals to create their new range of bathroom hardware. Buster & Punch have incorporated a Brass finish into their collection, which offers stylish toilet roll holders, bathroom hooks, towel rails, and shower pulls. However, the use of mixed metals is also growing within the bathroom space, so don't be afraid to adopt more than one finish in your space.
Hellenistic Aesthetic
The Hellenistic aesthetic was one of Pinterest's interior design trends for 2022, which has ultimately modified into an expected bathroom trend for 2023. The Hellenistic aesthetic reflects the Hellenistic and Greek decor, which incorporates both simplicity and proportion as its fundamentals. The Hellenistic aesthetic often features polished marble, gold, and ornamental plasterwork which are placed beside natural colors and textures, leaving room for interpretation. This trend is fortunately easy to incorporate into your home utilising marble and gold hardware, which has previously been noted as an upcoming trend.
Terrazzo Floors & Walls
Terrazo tiles for both floors and walls are amongst the top bathroom trends moving into 2023, owing to its unique and attractive signature stone speckles which date back over 500 years. Terrazzo tiles come in a wide colour range and many different sizes, furthermore Terrzzo is easy and cost effetive to maintain. As the topic of "green" interior design has been simmering under the surface of design trends, Terrazzo is a great option if youre seeking sustainable materials as it's composed of at least 20% recycled materials!
Patterned Drapery
Patterned drapery has long become a noticed trend throughout the home, which has made its way predominantly into living rooms and bedrooms, now 2023 expects patterned drapery to make its way into the bathroom. Interior Designer Lila Malone said that "because bathrooms are generally made up of all hard surfaces, tile, stone, plumbing, hardware, and mirrors, adding a layer of texture and pattern with window treatments can really soften the space and add some warmth". Therefore, attractively tailored drapery is able to highlight a focal point of your bathrooms design, offering an easy refresh idea.