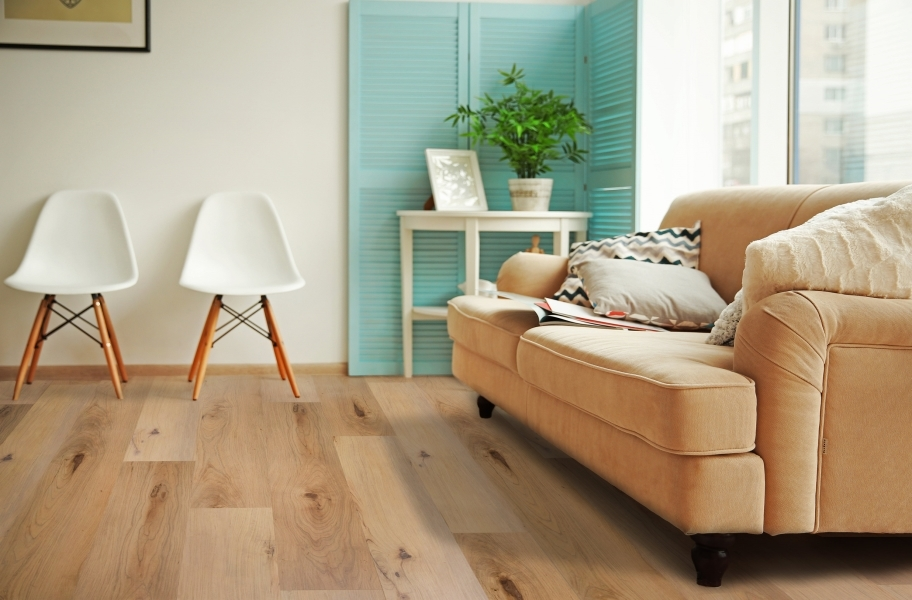 The popularity of luxury vinyl flooring (also known as (architectural LVT) continues to grow due to the look, quality and affordability it offers for both homes and offices. Well, it turns out to be a specific product to install, it is easy to maintain, the relationship between quality vs The price is incredible, and, what is most striking, it has an aspect of natural stone or wood that goes unnoticed, and that can confuse anyone, but avoiding the costs and inconveniences typical of these raw materials.
Now, after having understood the quality and properties of vinyl floors, comes the hard work of choosing which will be the best aesthetic option for your home. Well, even though this type of flooring can be installed in any room, the idea is that it adapts perfectly to the style and type of decoration of each space.
Although this may not seem relevant to many, some take care of every detail of the decoration of their home, always maintain a straightforward style, and the colours to use are exact. Hence, the personality of those who live there is present from floor to ceiling. So, to make a decision, you have to sit down and think about what style of decoration you want to evoke, and answer these questions:
What type is preferred? Contemporary, minimalist, rustic or something else?

Should the rooms have a formal or casual appearance?
And, last but not least:
What is the size of each room?

Are they tall, are they wide, are they narrow?

Does natural light enter? How much?

What colour is the artificial light? Cold, warm or yellow?
Responding to each of these concerns helps to filter what types of floors can be adapted to the space since, depending on the tones, the room can look larger or smaller, colder or warmer. And then, the colour will be chosen according to the decoration style selected; By the way, if you still don't know what kind identifies you, in this article on trends in design and decoration for 2022, we share some styles that you can follow.
In the meantime, here are some tips to make the vinyl flooring selection process easy and enjoyable:
Once in your space, look around and see if the colours that stand out are warm or cold. By friendly, we mean shades of red, orange and yellow, while cool colours include shades of blue, purple and green.
If none of these tones stands out, you can opt for neutral colours such as grey in different shades. This colour allows you to go to the fixed and is very easy to combine.
The amount of natural light that each room receives helps to make it look bigger or smaller, and what you always want is for spaces to look spacious. So, if the room to be remodelled has large windows and receives a lot of light, avoid installing very dark colours and simple patterns, as this will consume more visual space. Take advantage and resort to installing light vinyl floors to produce a light effect and be easier to combine with light or dark furniture.
Also, regarding artificial light, it is essential to clarify that the colours can look different depending on the tone of light with which it is illuminated. Usually, the warmer or yellower the morning, the darker and reddish the floor will look, but when the light is cold (white), the details and veining of the base stand out, and the colour is closer to reality.
The outside climate can be a factor to be modified with the help of the floor and the decoration. What do we refer to with this? That a warm or cold experience can be visually provoked with the use of colours; So, as we mentioned a while ago, yellow colours can generate warmth in a home that is located in a cold climate, while white colours give freshness to houses that are in a hot environment.
We recommend using mahogany, reddish, or even wenge-coloured floors to give a warm and elegant touch or to install grey or cream floors to provide freshness and spaciousness to your home.
 In conclusion, vinyl floors are a helpful tool when you want to make your home a special place. Best of all, thanks to the hyper-realistic appearance of these floors, any room can look elegant and luxurious without breaking the bank.